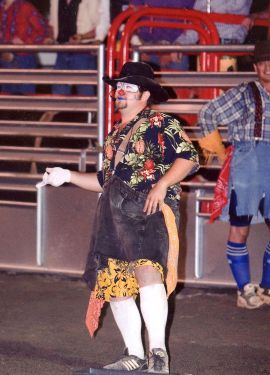 I haven't been writing much in this blog because I always try to get everything perfect and be so smart, which puts up a huge barrier to me posting.  So my New Year's Resolution is more dumber posts.  Let's get started….
Went to Madison Square Garden last Saturday to see the Professional Bull Riders Association rodeo.  Despite the 12 tons of dirt that had been dumped on the hockey rink it was smaller than I would have thought.   It also was shorter timewise and with surprisingly little drama, since there were no teams or stories, just occasional 8 second bursts of a rider trying to stay on a bucking bull.
Those 8 seconds were exciting but there were gaps, which were filled by the announcer and a rodeo clown with a headset mike who would do things to grab the audience's attention, such as moonwalk, jump on a barrel, lypsynch to Gloria Gaynor's "I Will Survive", and dance to Beyonce's latest hit.  In other words some very GAY or BLACK things were going on there to keep the audience entertained, which intrigued me, in that this last bastion of redneck culture (the national anthem was preceded by a group prayer and a shoutout to our troops) turns out to be beholden to black and gay culture – if only they would give credit.
The miked clown seemed to be on meth and made me nervous. This scene made me think of the how a lot of QVC announcers seem to me to be closeted gay men.   The identity dissonance that results from being closeted, can lead to a perfectionism that translates easily to "presenting" and product.  That's my theory.  Gays in Middle America are often more civic-minded than their hetero counterparts, they provide more of the "social glue" within communities, yet they operate tacitly, never truly accepted.  I'll never forget my gay landlord and his husband in Toledo OH serving me gourmet pigs-in-blankets, they were good too.