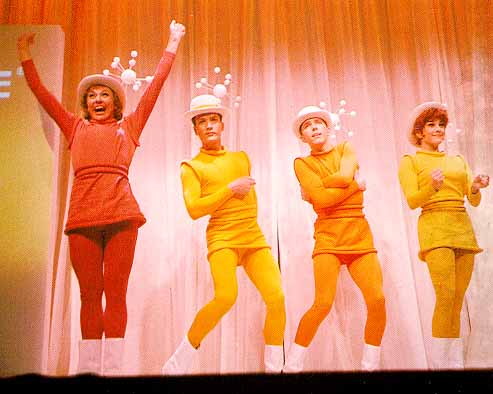 The 64-65 World's Fair marks the crossing of a cultural Rubicon. In 1965 DuPont Corporation sponsored an exhibit called the "Wonderful World of Chemistry", featuring a musical with a song called "The Happy Plastic Family". Two years later, in 1967 the movie "The Graduate" was released, with the famous exchange:
I just want to say on word to you,just one word.

Yes, sir.

Are you listening?

Yes I am.

Plastics.

(Dustin Hoffman underplays it the whole way.)
From 1965 to 1967 the concept of plastics was shifting from hopeful to ominous. Today we are faced with a giant floating island of plastic debris in the North Pacific, twice the size of the Continental United States. You turn away and hope that some solution will be found or you will be dead before it becomes a big problem. Imagine, then, not only not worrying about the impact of new chemicals, but actively celebrating it. Imagine GM's "Wonderful World of Tomorrow" ride which took people on a tour of ecosystems, from desertscape to moonscape, to underwater diving bell, each fantastic and hopeful.
Robert Moses, the organizer of the 1964-65 World's Fair, broke ranks with the governing Bureau of International Exhibitions, by demanding that participating countries pay exhibition fees. The BIE instructed their member countries not to attend, and the result was a fair dominated by Third World countries, with Spain and Vatican City being the only major exhibitors. Commercial interests filled the void. The '64-65 World's Fair marked the point at which corporations finally superceded nations in the Western cultural consciousness. Never again would plastics seem as innocent.