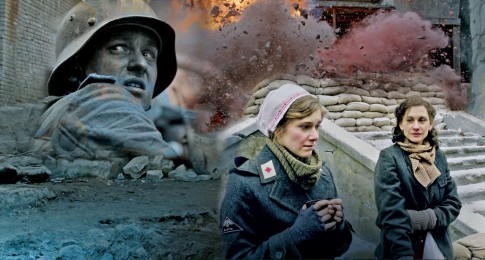 — SPOILER ALERT.  There are spoilers in this review.  —
"Generation War" is a 5 hour epic that follows the lives of 5 young Germans throughout the course of World War II. Originally titled "Our Mothers, Our Fathers", it had a successful run as a miniseries on German t.v.
Reviews in the U.S. have been mixed.  David Denby in The New Yorker says "…it may be clunky, even embarrassing, but it's certainly never dull."  I've seen this same line of exculpation so many times in reviews, perhaps resulting from the desire by the reviewer not to come across as too negative.  Rarely are movies described in the opposite way "….graceful and meaningful but certainly quite dull".
The main knock on "Generation War" in the U.S. has been that it sanitizes the German war experience avoiding difficult questions about what level of culpability ordinary German citizens had in the rise of Hitler and the atrocities that followed.
This criticism has been less apparent in Germany.  "Der Spiegel" magazine described it as "a turning point in German television", and claims:
"Germany apparently remains eternally wounded, dependent upon the healing power of remembrance. Germans must live with their trauma and occasionally reopen the wound to prevent it from festering."
"Generation War" does everything it can to avoid reopening the wound.    It focuses on the collective conscience of a group of 5 tolerant, young, liberal friends, while ignoring the national conscience and the national character that lead to the ascendence of the Third Reich.   The film uses the trope of good Germans versus bad Germans, creating sympathy for these ordinary people against whom so much is happening.
Here is our wacky, close-knit group of protagonists: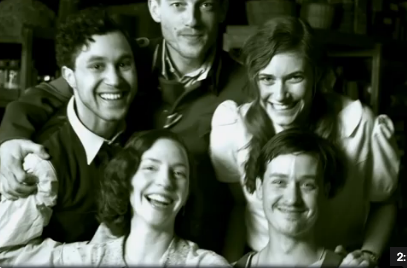 Remind you of anyone?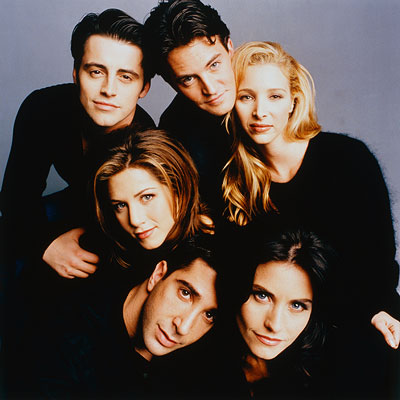 The level of character development remains on a "t.v." level as well, as if there were just half an hour to get to know them rather than 5.  They fall into conventional types: the responsible upstanding one, the sensitive poet, the chanteuse, the "good girl".   Yes, there is even a Jew.   To be played by David Schwimmer, perhaps, in the American version.
What follows is fairly predictable.  The sensitive one becomes a stone-cold killer (because of his sensitivity) ,  the good girl hardens, the chanteuse sells out, the responsible one becomes disillusioned, and the Jew survives (this is not "Shoah" after all).   In the end the remaining survivors gather at the bar where we met them in the opening scene, to toast their fallen friends.  Unlike "The Deer Hunter" they do not break out into patriotic song.
It's a near-impossible task to capture the German experience of WWII.  The most successful German war film that I've seen is Wolfgang Petersen's "Das Boot", precisely because its scope is limited to the experience of life onboard a German submarine.  It should be noted that "Das Boot" too, pits "good" German protagonists against evil Nazis, the difference is that the characters in "Das Boot" begin disillusioned by war.   The opening scene also takes place in a bar, with nervous submariners drinking to the point of vomiting, not innocently clowning and posing for group pictures.   
"Generation War", if done correctly, would evince a greater tragedy than "Das Boot", look how far the characters fall, they are all compromised and disillusioned by the end.  But the script is so hackneyed, the direction so obvious (long draw on a cigarette = deep thinking) that we see the end hours before it arrives. The final scene in "Das Boot", on the other hand, is truly shocking, and we empathize with the characters, despite their mordancy, partially because of the extraordinary plot device of being trapped in a submarine with them (just as being trapped in a stuck elevator would encourage commonality) but also because we have seen them be brave while knowing they are both doomed and compromised and so is everyone else.  There is an unforgettable scene where we witness the German sailors watching men jump from a ship they have just torpedoed, on fire and begging for help.   No one is innocent, and a redemptive story about the perpetrators of the second Great War must proceed from this fact as a starting point in order to be taken seriously.
"Generation War" has been praised for its war scenes: typically shakey-cam speeded-up jittery cuts.  These seemed to be done by a different director, not so of course, and while riveting ("certainly never dull") this technique evoked that "Sopranos" strategy  of interjecting bursts of violence to "juice" the audience when things were getting heavy or dull.   It also reminded me of U.S. war movies – "Generation War" has been described as a German "Band of Brothers" – which function as action movies, shocking the moral reflection out of the viewer and pouring in platitudes about cameraderie.  The message is always "bad things happen to good people, but at least we have each other".
In "Generation War" there is a sense that those "bad things" which "happen" include the protagonists own moral failings.  These are limited to a personal rather than societal scale.  When the good-girl nurse turns in her Jewish assistant we have no sense that she was capable of the betrayal,  that she had become morally compromised and had lost the memory of her Jewish friend, Ross, uh, Viktor.  Instead the focus is on how badly she feels afterwards.  The deed is later forgiven in one of the final scenes where the Jewish nurse's aide  returns, improbably, as a Russian commanding officer, who not only conveniently spares the nurse from rape by the advancing Stalinist troops (something I don't think the filmmakers wanted to address) but also provides the film's redemptive dollop by stating, in effect, "this must end somewhere".
With all its flaws, the best legacy "Generation War" can provide is to encourage us to look at the compartmentalization and moral relativism in our own war films.  Critical praise for movies like "Zero-Dark Thirty" demonstrate how difficult it is to come to terms with the moral failings of our own society.  As it stands "Generation War" is a slick apologia, an immaculately-wrapped present by dutiful German children to their (grand)mothers and (grand)fathers.