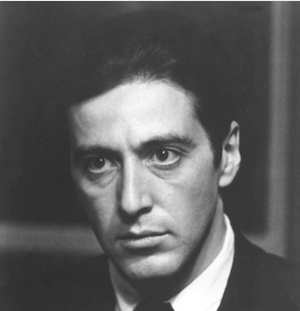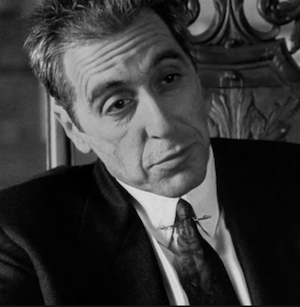 Pauline Kael, in her review of The Godfather Part III, draws a parallel between Francis Ford Coppola's personal aggrieved exhaustion during the time the movie was made, with the lifelessness of the film he ended up directing.  This is a subtle compliment to the role of director:to imply that the director's subconscious cannot help but be leak through through the celluloid.
Kael's chief complaint about Part 3  was the "lack of a driving force", which she saw reflected in Al Pacino's slouching face.  But Pacino didn't just slouched, he also blustered.   Was it to compensate for this "low-energy Coppola" that he turned the "hoo-ha" up to 11 in the last installment?
Kael is kinder than I am in this regard, mildly praising Pacinos performance, attributing a lack of dramatic tension to Robert Duvall's absence.  His performance isn't just drastically different in III, it is the complete opposite of everything that made Michael Corleone compelling in the original Godfather.  That was one of the great performances in film history, epitomized in the close-up of Michael's nervous darting eyes during the seconds before he murders Sollozzo and McCluskey at an "Italian American" restaurant.  Pacino's Michael was characterized by a tortured restraint, an anxious, quiet toughness.  You could see the price he was paying with every decision.
Fast-forward to cocaine-era Al Pacino in 1990: Michael's voice has gone from sotto to strident. His New Yawk accent is stronger despite the fact that he's relocated to Vegas.   He's external, not internal.   I loved Pacino in Dog Day Afternoon, I was a bit awed, if not entirely sold, by Scarface.  The problem I had with 1990 Pacino was that everything good about his character had been lost abandoned.
Was this to inject a little life in Godfather 3?  I don't think so.  To me he was, like Coppola, exhausted. There simply wasn't enough energy there to generate, much less contain the inner conflict. He substituted the a hollow frenzy for a quiet inner force.
I also thought it was a weakness for Coppola to go full "faux-Scorcese" in the slow-motion operatically scored killing spree in the Teatro Massimo at the end of the film.  I've grown to hate this now-lazy style, and it's inescapability –  I've seen it in tv commercials where slow-motion potato chips fly through the air,  part of a comic household mishap, as music plays in the background.
Sophia Coppola was not the disaster she was made out to be. Not a trained actress but not a disaster.
I saw an interview with Robert Duvall on "The Today Show" from about the same time The Godfather Part III was released.  He declined the role because was not offered comparable money as his costars, and, as he said,  "Everybody was in it for the money".  His description of Brando's acting technique was that a sheet of paper with Brando's lines would be taped to the forehead of whichever stand-in was playing the role opposite, and Brando would then read the lines from the paper.  And what a performance.   Perhaps if Michael Corleone wore reading glasses….